Brief:
 Reignite excitement for existing products.
When at a crossroads between a print-heavy till area and a roll-out of digital point-of-sale across all their cinemas, Vue needed me to utilise existing imagery initially meant for print and give them a new lease of life. 
Working with strategy and a team of motion designers, I directed these enticing and equally epic menu boards that promote each offer based on its unique qualities.
• Created consistency and clarity 
• Enticing dynamic menus for children and adults alike

My Role:
Lead Designer & Art Director
With:
The Marketing Store
Format:
Retail Campaign 
 Brief:
 Launch an ice cream brand.
With 'Avalanche' established as the name, Vue was after a bold statement brand with universal appeal and an epic stand-out element. 
Avalanche ice creams were positioned as a permissible treat. Something indulgent but not over the top or too filling. Across all POS, the ingredients were allowed to sell themselves via our crisp stills and dynamic, eye-grabbing footage. Overall this project was a disruptive and bold execution of a brand launch.
• Cohesive in-venue touchpoints
• Impactful out-of-home advertising
• Launched an ice cream brand

My Role:
Lead Designer and Art Director
With:
The Marketing Store
Format:
Brand Launch & Retail Campaign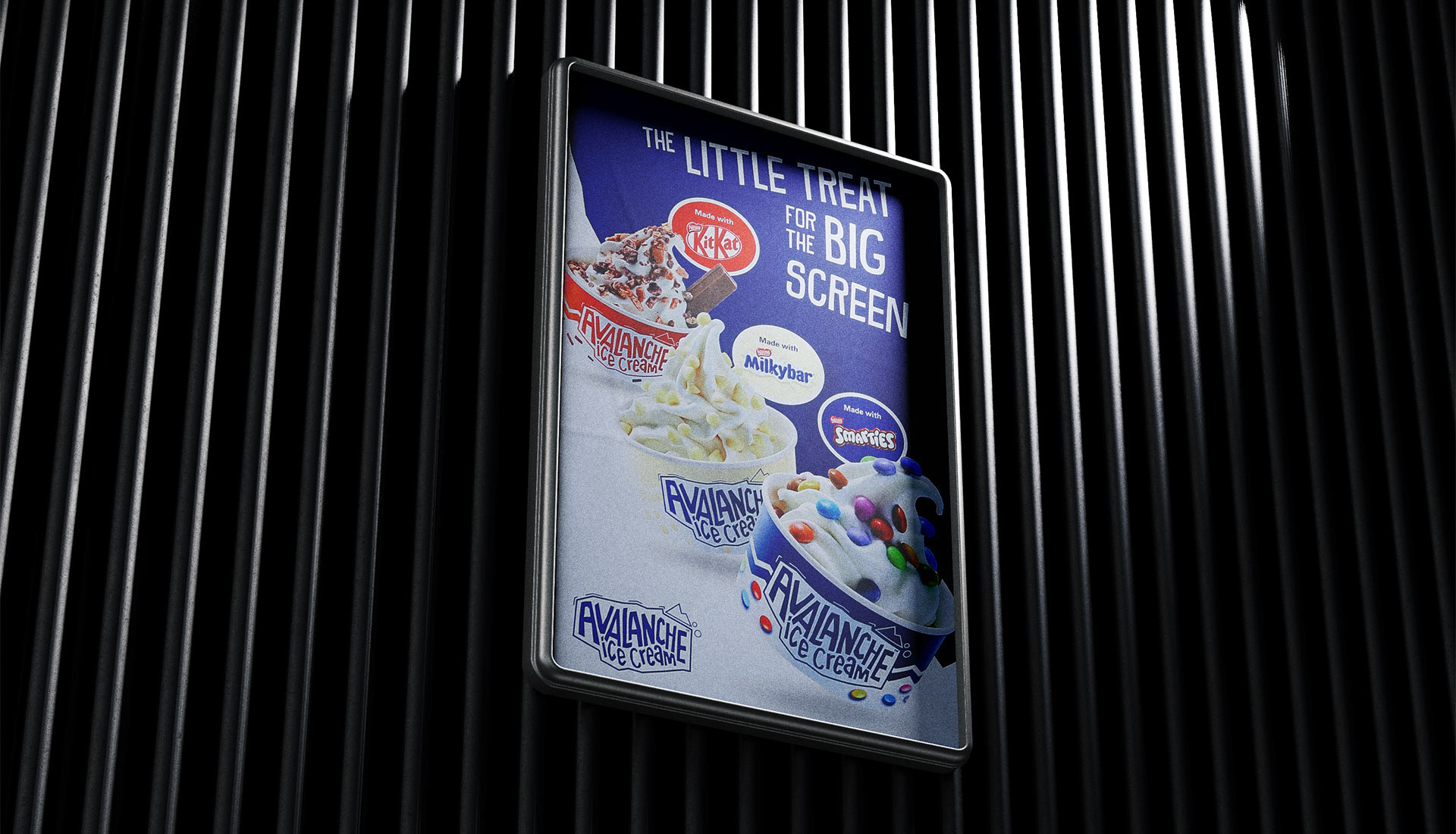 Brief:
 Speed up queues caused by food orders at Vue.
One way to kill the joy of the big screen experience is to be forced to wait in queue for your popcorn. Express Pick Up was trialled at a few choice Vue venues by rewarding customers who had pre-ordered through a discount at the point of purchase online and effectively allowing them to skip a larger queue on arrival.
Working within Vue's brand collateral, we developed an in-keeping yet striking sub-brand that was easy to navigate for the customer. Important messages to convey were: firstly, come this way if you've pre-paid, and secondly, this is something you should do next time to avoid a queue and get a discount.
One particular little win on this project that I recall is that we went with my first sketch for the logo that I doodled in the initial briefing of this work. I knew my fast-forward icon within the 'x' was too appropriate to be passed over.
My Role:
Lead Designer
With:
The Marketing Store
Format:
Retail Customer Journey